You are in a secure site.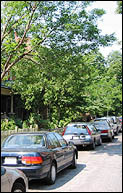 Residents of Toronto may now renew on-street parking permits online. Please note that, at present, the service is limited to permit renewals only. Payments are:
by credit card only (VISA, MasterCard or American Express)
for the full amount. Partial payments are not acceptable
for renewal of existing parking permits only
If you have changes to the information on your renewal notice, with your vehicle licence plate number or address, please follow the instructions provided on the notice. If you have no changes to your renewal notice, you may proceed with the online service. Visit our Web site for more information on the on-street permit parking program.
Permits terms and conditions
There are requirements that have to be met to obtain a residential parking permit and conditions that apply to use of the permit. These can be reviewed here and should be reviewed before renewing the permit.
Motorcycles and scooters
Permits for motorcycles and scooters are free, but must be picked up from a Permit Parking office. Please contact us to determine availability.
Contact us:
If you encounter difficulties in renewing your permit online, you may contact our customer service staff at one of our offices, Monday to Friday, between the hours of 8:30am and 4:15pm.
Please note that your payment session will end automatically if your computer is left idle for more than 2 minutes. We suggest that you have your permit renewal notice and credit card ready before you begin the session.
To proceed with the renewal of your permit you must read and consent to the Website terms of use and click the I Agree button below.