You are in a secure site.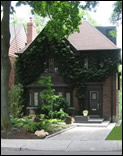 You may now renew your City of Toronto street allowance rental on-line for off-street parking and encroachments. Please note that at present, the service is limited to renewing existing permits only. Payments are:
by credit card only (VISA, MasterCard or American Express)
for the full amount. Partial payments are not acceptable
It's as easy as:
Entering your account number;
(Located on your renewal notice)


Entering your credit card information and expiry date;
(VISA, MasterCard, or American Express)


Printing a confirmation for your records.
If you encounter difficulties in renewing your permit online, you may contact our customer service staff at one of our offices, Monday to Friday, between the hours of 8:00a.m. and 4:00p.m.
Please note that your payment session will end automatically two minutes after this web page has finished loading. We suggest that you have your account number and credit card ready before you begin the session.
To proceed with the renewal of your permit you must read and consent to the website terms of use and click the I Agree button below.